April 30th, explore Long Xuyen
30/4 explore Long Xuyen
Long Xuyen a city on the banks of the gentle Hau River. One of the two most vibrant cities of the Mekong River region, Every opportunity to have a chance to explore An Giang, Long Xuyen will be one of the most worthwhile destinations. Take note of the An Giang discovery schedule. This year, on April 30th, you will have three days' holiday, so let's explore Long Xuyen.
From Ho Chi Minh City, we can travel to Long Xuyen, either by private vehicle or by popular long-distance buses such as Phuong Trang and Hung Cuong, etc. These car companies can both pick up and drop off guests at the hotel.
When you return to Long Xuyen, you need to book a 3-star hotel, including breakfast. It's in the center of Long Xuyen city. Just contact the Hotline of Chau Khuong hotel to book your room early during this 30/4 holiday.
After having room to stay, the rest of us will explore the fascinating places in Long Xuyen. Long Xuyen City will make you more interested in Nguyen Hue-Long Xuyen Walking street; My Long night market is located next to the Hau River in the cool weather. At these locations, with many restaurants, full of delicious dishes are waiting for you to explore. You can walk around and find delicious dishes with the taste of the village. It's a great day.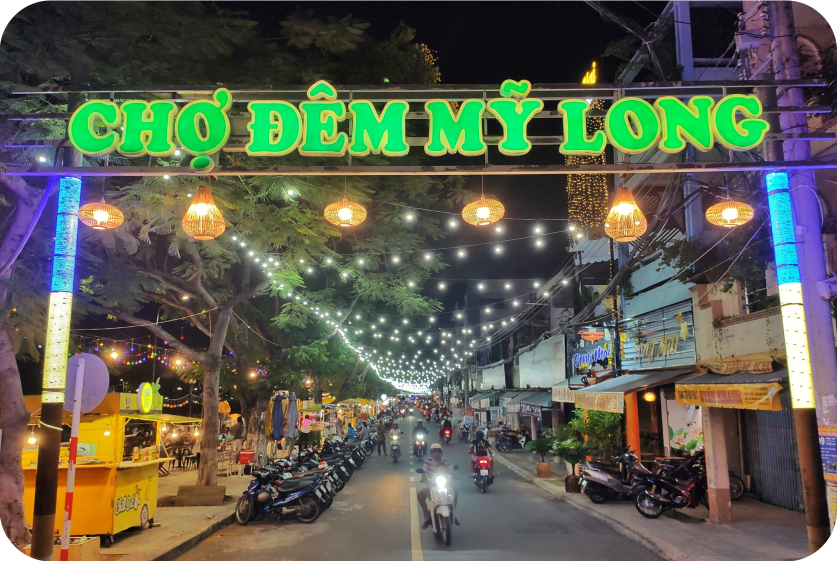 You want to check in from above to enjoy the city at night. Venus Sky Bar's located on the 8th floor of the Chau Khuong Hotel building. Opening from 6 pm to midnight. A place where you and your friends experience this 30/4 vacation. Venus Sky Bar has two main timeframes, from 6 am to 9 pm, with a gentle music floor, suitable for those who love the peace, feel the city from the air, and from 9 pm onwards, will immerse themselves in the atmosphere of vibrant music dances.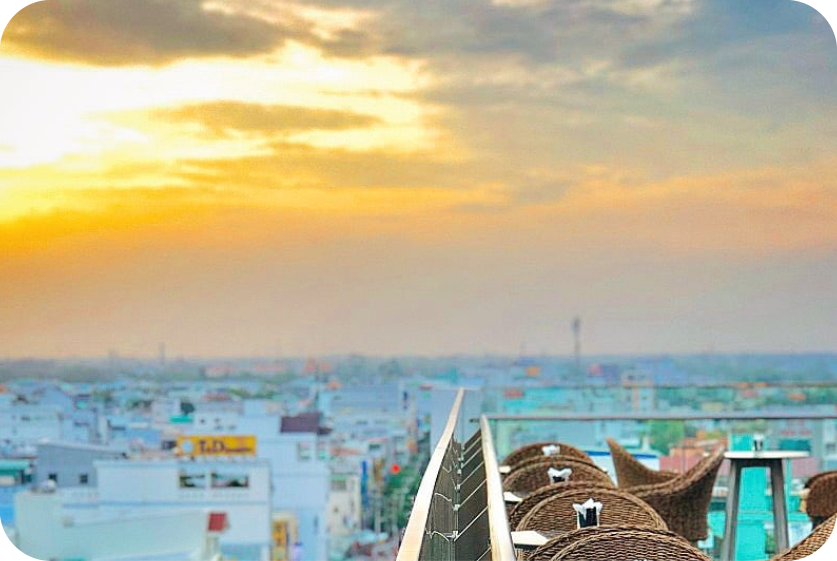 In the morning, you want to float on the waves, watching the sunrise on the gentle Hau River. Let's explore the Long Xuyen Floating Market together; Visit Cu Lao Gieng island; Visit the beloved Uncle Ton Duc Thang, a respectable national hero in My Hoa Hung village.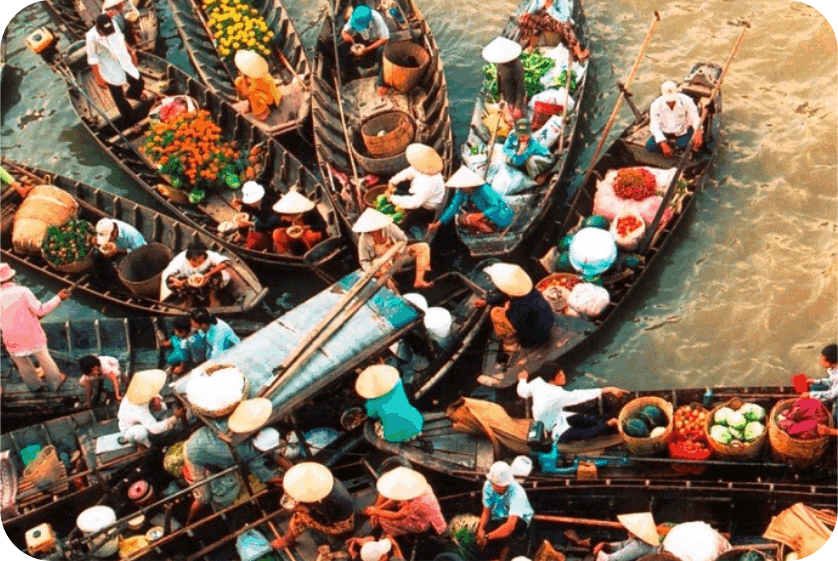 To give you a comprehensive picture of this land, check out the suggestions for the Long Xuyen tour, which Chau Khuong Hotel recommends to visitors from near or far. With a two day a night itinerary, you can experience many fascinating places in this beautiful Long Xuyen land. This Long Xuyen tour includes hotel, dinner, breakfast buffet, transportation, tickets to tourist destinations (if any in the itinerary). Group of 2 or more people, you can join the tour to discover Long Xuyen already. Contact Chau Khuong Hotel to book and book a tour today. Please Wish you have enjoyed things when you explore Long Xuyen on April 30th.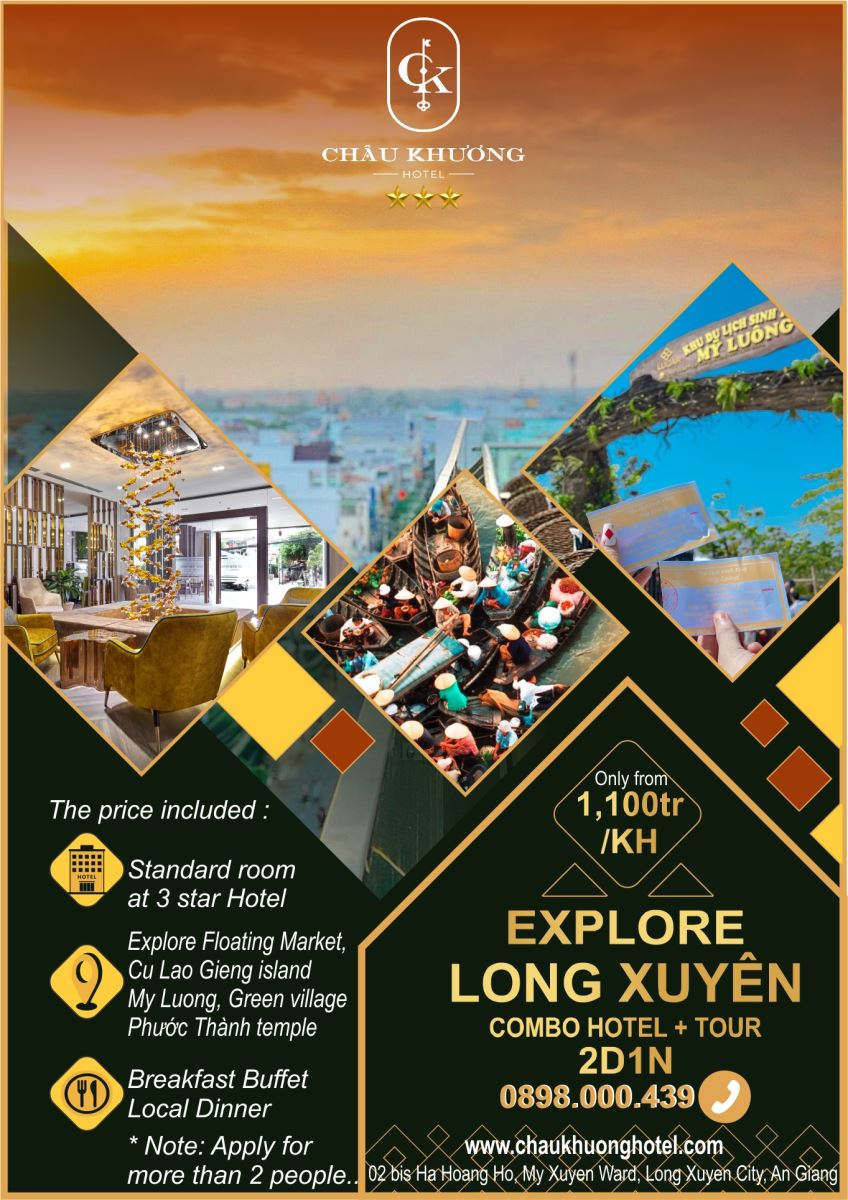 The writer
Siha Sokheng